The car phone was invented by Bell System Operating Companies, in 1946.
Car phone invention was one thing that defined luxury living for most people who lived from the 50s to the early 90s. Although it gained popularity and was much useful but crude during that time, it still exists today in an advanced form.
The availability of pocket-friendly phones have rendered the technology of huge car phones irrelevant, but recent developments have transformed its existence. Car phones have been in existence since the early 40s and were originally introduced by Bell System.
Also read:
Here's a List of 20 Inventions in the 1950s [Inventors Included]
To ensure that you made a call when the first sets of car phones arrived, one of them weighed up to 80 pounds (36kg). The service at that time was useful and utilized, especially in North America. The car phone was first used in St Louis.
The Invention of Car Phone
The earliest car phone services were connected to Public Switched Telephone Network in 1946. At that time, the American population's mobility grew drastically; it was the postwar years—designs of phones committed into the hands of Western Electric Corporation.
Western Electric Corporation was the major supplier of the phone sets to Bell System. Bell Laboratories built the phones' overall system; they were responsible for setting specifications for the equipment.
During this period, independent Telephone Companies were building their design and were supplied by Automatic Electric. Western Electric Type 38 and Type 39 VHF FM police radio equipment combined with Bell System equipment made a stylish telephone with a selective calling decoder.
The decoder is designed to ring a bell in the automobile if any caller signaled the phone's number. The decoder is enclosed in glass as a small wheel, having pins on some parts of its circumference.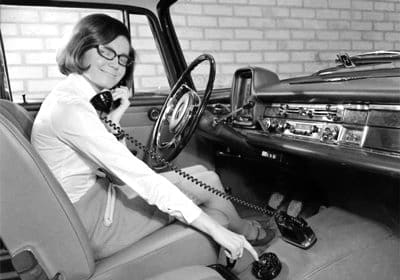 The decoders were built in the 19th century and were meant for signaling right-to-way for the railway.
At some point, they were used in ships during radio installations in the 30s. The decoder development was a proven concept. It was named 102.
Hence there wasn't the need for Bell System and Western Electric to develop another concept of a decoder.
It was suitable for use in a car telephone and was already a proven concept, so components of the concept were used to create a service for car telephones used by the public.
The inventor of Car Phone
The inventor of the car phone is Bell System Operating Companies, in 1946. Most of the equipment converted for the use of car phones were being experimented on, even before the second world war. Western Electric Type 28 VHF equipment radio equipment was used alongside Bell System equipment internally at that time.
An example of the equipment used before the invention of the car phone was the Radiotelephone Service, used when there's an emergency. It was established in 1940 and was operated on the using AM on the 30-40 Megacycle band.
The result of the successful testing of the equipment led AT&T to announce the creation of the General Mobile Radiotelephone Service. It was announced on the 29th of June 1945. With the authorization of the Federal Communications Commission (FCC), they established base stations.
Cities, where based stations were first established, are Chicago, Salt Lake City, Milwaukee, Washington DC, Houston, Cincinnati, Pittsburgh, Denver, Philadelphia, New York City, Baltimore, Columbus, Ohio, and St. Louis.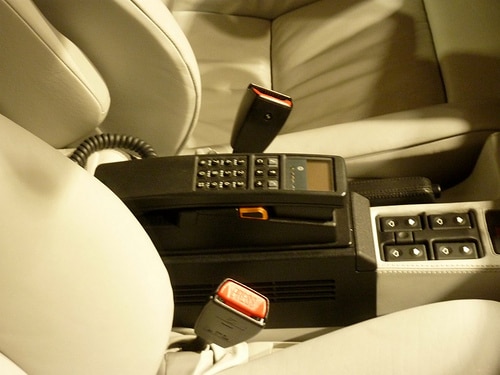 Car Phone Commercial Release
When the car phone was becoming a useful invention across the USA, Bell System and FCC concluded two forms of telephone service known as HIGHWAY and URBAN. Both services were VHF and used FM.
The highway service was made to serve the major routes of land and water across the USA at that time, for barges on waterways and trucks on the highway with private vehicles' exemption. Twelve channels were allocated to highway service with low band VHF. Their mobile equipment received 35 Megacycle and was transmitting on 43 Megacycle frequencies.
Urban service was serving subscribers who travel within the radius of an urban center. The service was available to workers in a major city, including doctors, ambulances, delivery trucks, news reporters, and other workers who met the requirements.
Urban services operated on six channels initially, receiving on VHF 152 Megacycle and transmitting on 158 Megacycles. The need for separation in receiving and transmitting channels was so that a half-duplex communications circuit could be provided. It allowed the base stations to stay on air when a call is on.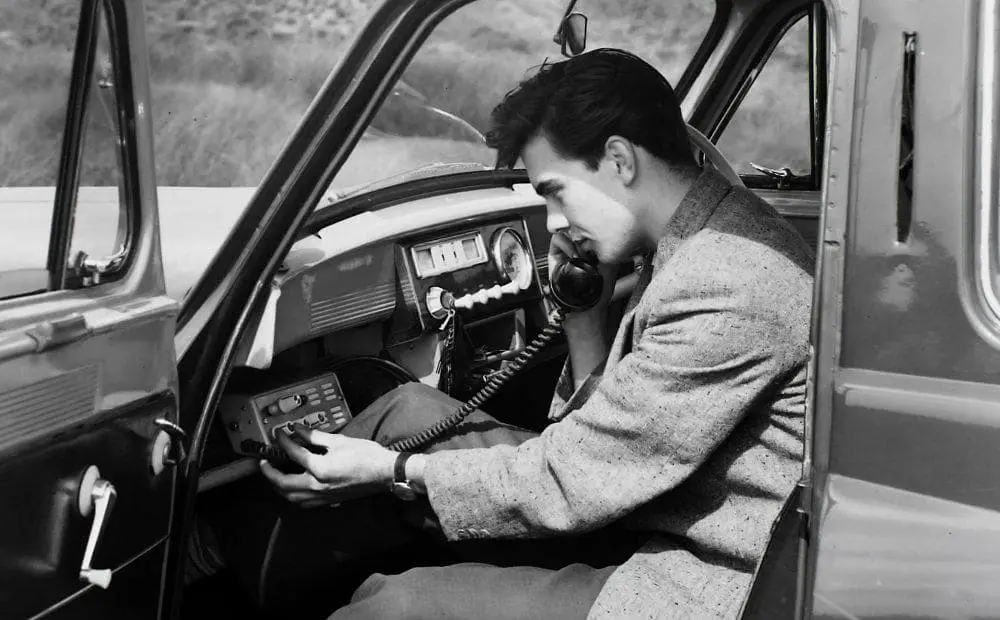 The urban system first went on air in St Louis in June 1946, while the highway system first went on air in Wisconsin in August 1946.
Two years after the service was made available, urban service was accessible in 60 cities in the USA and Canada. They had 4000 subscribers at that time, and up to 12,000 calls were handled smoothly every month.
Highway service was accessible across 85 cities, having 1900 subscribers, and up to 36,000 calls were handled every month. The service was mostly covering the Midwest and the east side.
Bell System later went into business with the police department, renting them equipment for the police radio market. The rental service included maintaining and updating the equipment. Urban service was made available for smaller police departments.
Car phones today
In recent times, technology has moved forward and is birthing innovations as time goes on. Towards the end of the second generation, the first set of what we know as mobile phones were designed. Over four decades now, a lot has changed in the telecommunication world.
Car Phones have improved as well, and its development has led to the invention of mobile phones. They were first known as cellphones, and their service was limited due to power consumption and signal quality. Then, it was advisable to have a cellphone installed in a vehicle.
Car Phones still exist today and are still a thing of luxury to date. Recently, world leaders are enjoying the benefits of having a satellite phone installed in their limousines and supercars. Hands-free devices have contributed immensely to the phasing out of old car phones.
Before car phones became very scarce, phone brands like Nokia and Motorola built car phones that can be used over a satellite network. Modern car phones are now designed to use high-speed technology and have colorful screens.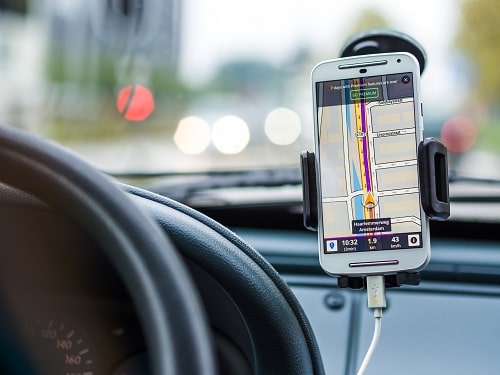 Their high-speed data connection enables users to use their sim cards stored in mobile phones via Bluetooth. This means that every contact number saved on the sim cards can be accessed in the car phone through Bluetooth. Media files can also be accessed through this medium.
Nowadays, countries have started restricting the use of phones while driving, mostly because of accidents. Showing off how one is attuned to modern communications requires safety precautions to be taken first.